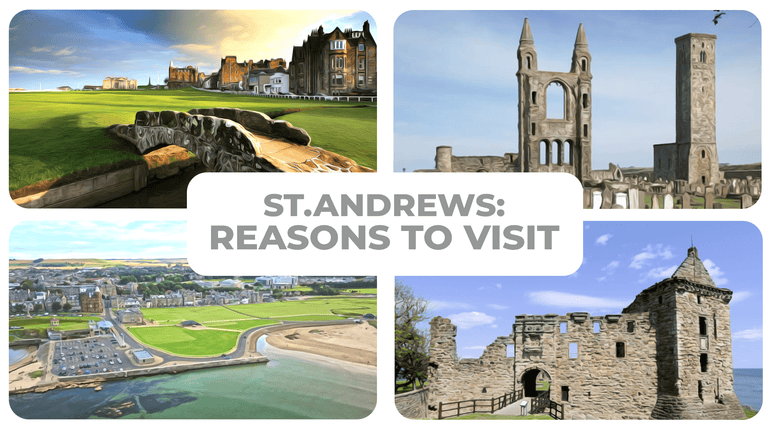 Scotland's picturesque St. Andrews is a small coastal town and the home of the sport golf. 
This summer, the inviting coastline may as well be your next travel destination for all its 
history, culture, and beauty!
What is St. Andrews like?
St. Andrews is a small town in Scotland that is absolutely charming. It is full of medieval 
architecture and has a beautiful coastline. The town is also home to the world
-
famous St. 
Andrews golf course. If you are looking for a place to relax and enjoy som
e great scenery, 
then St. Andrews is the perfect spot for you.
Reasons to Visit St. Andrews
There are many reasons to visit St. Andrews, Scotland this summer. Here are just a few:
The golf:
St. Andrews is the home of golf and there are many world
-
famous c
ourses in the 
area, including the Old Course at St. Andrews itself. If you're a fan of the game, this is the 
place to be.
The history:
St. Andrews is steeped in history and there are plenty of opportunities to learn 
more about it during a visit. From its
medieval origins to its role as a key religious site in the 
Reformation, there's plenty to explore.
The scenery:
 Scotland is renowned for its stunning scenery and that's certainly true of 
St. Andrews and the surrounding area. From the beaches to the count
ryside, there's plenty to
admire.
So why not add a visit to St. Andrews to your summer plans? You won't regret it!
Places to go in St. Andrews
1. St. Andrews is the home of golf and the perfect place to improve your game. With world
-
famous courses like t
he Old Course, there is no better place to tee off.
2. The town of St. Andrews is charming and picturesque, with plenty of shops and 
restaurants to explore.
3. The beaches in St. Andrews are some of the best in Scotland, so you can enjoy a day of 
sunbath
ing or surfing.
4. There are many historical sites to visit in St. Andrews, such as St. Andrews Cathedral and 
Edinburgh Castle.
5. If you love hiking, there are plenty of trails to explore around St. Andrews, with stunning 
views of the sea and countrysid
e.
Conclusion
So there you have it! Our top five reasons why you should visit St. Andrews, Scotland this 
summer. We hope we've convinced you to add this amazing destination to your travel plans. 
If not, maybe we can interest you in one of our other wonderful blogs about
Scotland.