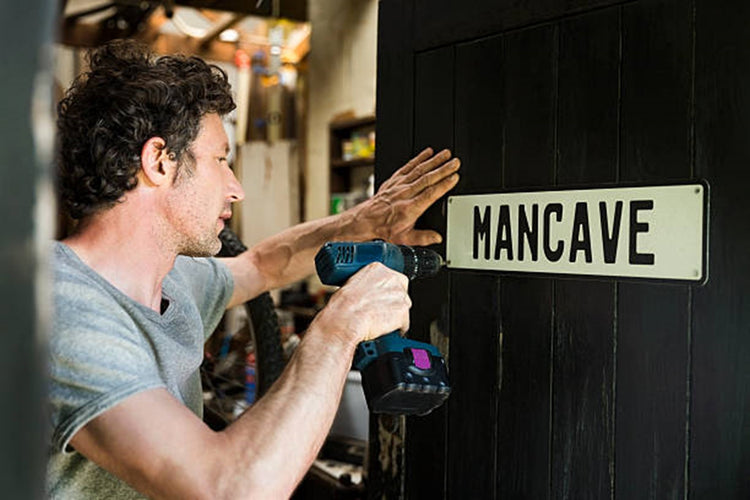 A man cave is an ideal room that offers men a private place when it concerns home decor. Man caves are special areas in the home where men can enjoy their pastimes, exhibit their creativity, and socialize with friends.
The greatest man caves include everything you need to make a beautiful and entertaining place, like comfortable furniture, cool themes, and manly decor.
A  computer, kitchen corner, poker and pool tables, leather couches, male wall art, smart signs, and entertainment centers are the basic components of the modern man cave.
Man Cave Decor Ideas
There are many incredible man cave ideas to take into consideration whether you want to furnish your basement, garage, game room, or outdoor space. Are you planning to give surprise your husband? You can get him a man cave gift by decorating it for him. So here are some helpful ideas to give your husband's man cave a unique touch.
1.  Choose The Theme
Setting a theme is an excellent option to begin. You don't need assistance with this. You can complete it alone at home. Consider how your man cave can improve his entertainment experience, and that should be a good starting point. There are many different themes available, but when it comes to your husband's man cave, you should themes based on his favorite characters, movies, games, sports teams, etc.
2.  Paint The Walls
Painting the walls of the space a fresh color is one of the man cave decorating most cost-effective ideas. While doing this, you have the option of painting the entire room a single color or just one wall to serve as an accent wall. The idea is to ensure that the shades you select complement both your theme and the remaining decor items so that your husband's man cave looks unified.
3.  Fancy Basement
Make zones for various activities in a large man cave to make it diverse. This opulent room, for instance, contains a media space, a bar area, and a gaming area. With this strategy, you can exercise your creativity by adjusting each zone's design to better serve its intended function.
4.  Posters
The most obvious decoration for your man cave is a poster. Find out about his favorite obsessions when it comes to entertainment, and choose accordingly. You may even get a customized poster with his name engraved to make him feel special. Or, it could simply be motivational quoted posters that he would love to add to his space. Remember, to frame your posters if you want to elevate them. By doing this, they will appear much more elegant and fancy than if you simply tape or hang them on the wall.
5.  Local Showpieces
In your man cave, flaunt your local pride. This item can be displayed on a shelf or put on a wall to show everyone where his heart truly resides.
You might need to use some imagination to come up with one for your state, but it is possible. Print a copy of your state's outline that is the appropriate size for the piece you need. Your neighbourhood hardware store should have no trouble matching paint to the colors of your state. Organize ahead of time and finish this project in parts, removing the masking as you go. A coating of polyurethane applied at the end will keep your creation looking regal for many years.
6.  Choices for TV and Surround Sound
Consider your surround sound system and the TV you'll be using before moving too far along in the design process. Make sure the space is configured so you can enjoy a fantastic surround sound system if you're utilizing one.
To maximize the sound, position your furnishings, such as the sofa and stools, in the ideal location. It won't sound as good if you place them too near or distant from the speakers.
Additionally, ensure you have enough space to arrange your furniture so that it faces your TV at an adequate angle. It's important to remind yourself while you add features to your husband's man cave that it is his comfort zone, so make sure that the sitting arrangements and TV alignment are all catered to suit his requirements.
7.  Pool Table
Add a high-end, pro pool table as the focal point of your man cave to make it the place to be. Boys' night just got way more fun, and your man doesn't even need to go out to enjoy himself.
Because pool tables are big and expensive, it's important to think about whether or not this will truly work with your area and budget. But if you have the space and the money, it's a great way to personalize your man cave.
You'll need a chic location to keep your clubs, balls, and chalk. You can purchase a central ceiling light to put over the table that highlights the pool table, and creates the right ambiance.
8.  The Elegant Bar
Setting up a bar area in your man cave should be your priority if your man enjoys entertaining friends and family in his man cave. The circular design is especially attention-grabbing and serves the purpose of a proper bar-like atmosphere. You could also consider adding wine closets if your husband is a wine lover.
9.  Neon signs
Nothing shines as brightly as neon light. Your man cave's focal point could be a cool neon sign. It adds a lot of personality to your room while also serving a practical purpose. Neon signs are less harmful than many people believe. They are rather simple and make statement decorations. Your room's lighting has a significant impact on the atmosphere and mood. Using pendant neon lights gives a space a contemporary, elegant feel.
10.            Exercise Equipment
The meathead buddies of your spouse will appreciate a great pull-up contest in the man cave. For your man and his mates to get in a nice pump before downing some beers, set up a piece of pull-up equipment and weights.
Last Words
Making an effort to decorate your husband's man cave is a thoughtful gesture. It simply shows how much you value his need to find comfort in his own corner. However, there is no need to try to decorate it in a way that will break the bank while you're doing this to add to your worry and anxiety. You can acquire inexpensive decorations in many online and offline stores to make sure your husband's man cave is ideal.