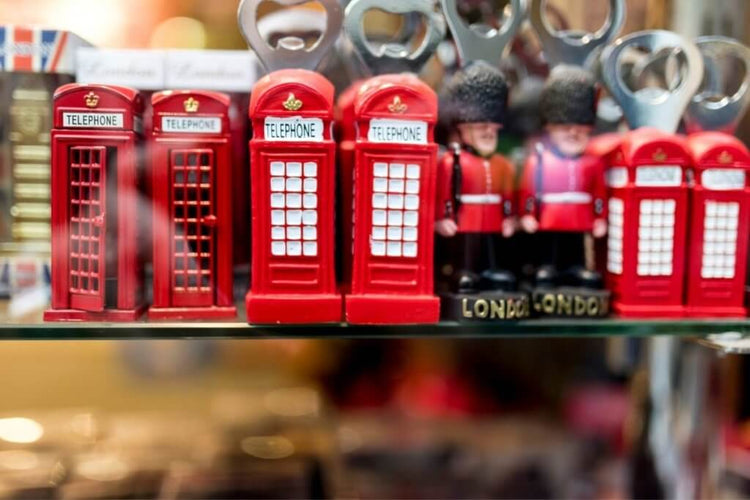 If you are thinking about what to buy in London or where to buy London souvenirs, this post is for you. Shopping for London souvenirs is part of the city experience, whether it's your first time in the UK or your frequent visits.
There is something so iconic about this city that the best way to remember it is to choose the best London souvenirs and take them home to you, your family, and friends.
Most people think of red phone boxes or the Queen of England, Queen Elizabeth II, or Tower Bridge. When I visit a city I love to take home a taste of that city, be it a local gift or one of those things that can only be bought in London and usually a flag on the wall for my kids.
What to buy in London
There are so many London souvenirs to take away when visiting the UK from many Souvenir store. I've posted most of the most popular ones below, from local goodies to the best London gifts to take home with your family and friends! Getting to the bottom will leave you with many souvenir ideas to keep in mind during your trip!
Royal Guard Key ring
This is a a fabulous London vintage souvenir, made from enamel metal metal keying features one of the Queen's royal guards, much like they do outside of Buckingham Palace. This design has been accentuated with coloured enamel to bring to life the red and black of the guardsman's uniform.
London Telephone booth keying
A cute and collectable version of the famous die-cast metal British symbol - the English phone booth. This little London telephone booth souvenir mock up will remind you of your most beautiful moments in English wherever you go. Makes a great party flavor for your next UK party! Cast metal is one of London's best-selling souvenir key chains. Very attractive and with a beautiful finish, it is an ideal gift for friends and family who want a small souvenir from home.
Union Jack & London Foil Magnet
Bring the splendour of one of the worlds most famous cities to your fridge door with this rather modern foil photographic London picture foil magnet, which makes a superb souvenir idea too!
London Metal Magnet
A large metal fridge magnet with an exquisite design that represents all the iconic symbols that you would normally see in the city of London. Buy this magnet at exciting prices.
Glittered Union Jack Wallet
Use these glitter union jack wallet for gifting souvenirs to friends and family, or fill them with English sweets and toffees to make a delightful present.
Glittered mini union jack wallet
This exquisite Glittered mini union jack wallet has been adorned in a multitude of crystals that all complement each other to form the United Kingdom flag.
Policeman Bear Plush Toy
This 15cm tall teddy bear made by the UK based soft toy company. The cop is sewn from super soft and dense plush with velvety details. He is adorned by a non-removable uniform, consisting of a cotton velvet hat and suit with embroidery and applique detailing. To complete its patriotic look, a Union Jack has been embroidered on its left leg, while beans on its lower half give it that extra cosy feel.
Bud Union Jack Bulldog Plush Toy
Take home Bud, the adorable Bulldog Union Jack from Keel Toys. Suitable as a gift, prize, souvenir or other ideas. Or it would be perfect for a British themed party!
Here we have our post and phone booth cruet set! These ceramic cruet sets were beautifully designed with their matching pair. This will definitely be a topic of conversation with your family and friends, at home or at work. Everyone who loves our British Red boxes will appreciate this special salt and pepper set!
Telephone Booth Piggy Bank
This Red Telephone Box Money Box is a Die cast metal, which stands 15cm tall, with a slot in the top to post the money and a rubber bottom plug to let you get to your pocket money.
Remember an adventure through the capital of England, London. Enjoy your favourite drink with our London Adventures ceramic mug. The contemporary design features iconic London locations and symbols.
I hope you enjoyed my list of recommended London souvenirs and now you know what to buy in London. I tried to cover gifts for everyone. Did I leave something out? What are your favourite London souvenirs and things to buy in London? Feel free to visit the British Souvenirs website to collect your favourite souvenirs.