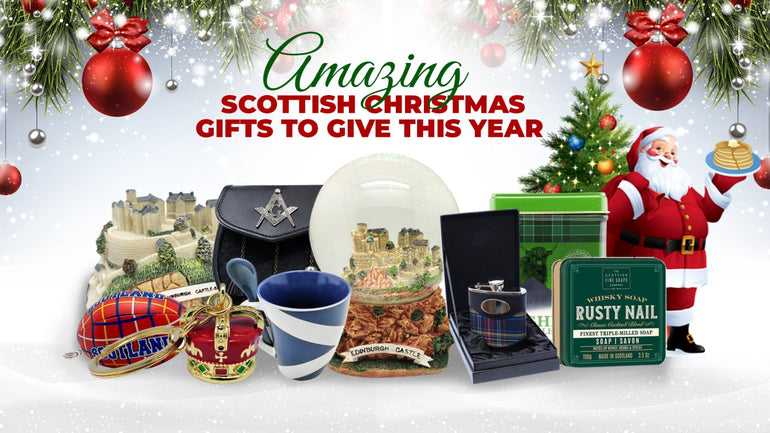 Christmas is a time for gifting and with the big day almost approaching, it's time to search for the perfect gift for family or friends. Even if the celebrations are a little smaller this year, spread the love with a warm and meaningful gift. From home decorations and jewelry to artisan gin or whiskey for Christmas and New Year toasts, we have a great selection of gift ideas to help you complete your holiday shopping list. British Souvenirs – the best souvenir store online, has put together a list of dream items for those obsessed with Scotland who can't live without them.
Jingle Bells Christmas T-shirt
Shake your bells, it's Christmas! Yes, our cheeky slogan tee is perfect for getting into a festive mood this year! With bold gold bells on a black organic cotton t-shirt, you shine brighter than the Christmas tree!
Merry Christmas T-Shirt- Red
This design features the words "Merry Christmas" with stellar reflections in some letters. Silver gray and white snowflakes fall along with the pattern. More festive is the design in a bright and cheerful traditional red.
Scotland Golf Whiskey Tumbler & Pourer
Buying a gift for someone who plays a lot of golf? Then buy yourself one of these fun golf whiskey tumblers and pourer! This will put smiles and laughter on your friends' faces. After a nice round of golf, you can sit back and relax and enjoy a well-deserved drink. This Scottish golf whisky tumbler and pourer will be your favorite!
Scotland Beer Tankard
Enjoy a well-deserved beer in this traditional Caithness glass tankard. The sturdy base and handle give a luxurious, balanced feel. Crafted from fine glass, this pitcher makes a great gift or special presentation item. In addition to the club's branding, you can personalize this product with your desired name or text at no additional charge.
Edinburgh Castle Snow globe
Feel the majesty of Edinburgh Castle in winter through this snow globe. The season is one of the busiest in the castle. In the Victorian era, snow globes were used for fun and games. Shake the balloon to see crunchy snowflakes fall around a miniature replica of the castle. This snow globe comes in an elegant presentation box, for display or as a gift. It is small enough to fit on a shelf with ease. Falling snowflakes are even more beautiful when they are backlit with colored lights or candles.
Nessie and saltire heart metal keyring
With a new and exclusive design, this keychain features a Scottish tag with a Saltire, Highland Cow, and Nessie charm. Ideal for all ages and would make a perfect little gift or keepsake. Ideal for keychain collectors. We pride ourselves on being able to offer you the best quality at the best price - we know what we are selling! Everything we have comes from our trusted suppliers and is made with carefully selected materials.
Scotland Tartan Playing Cards
Playing cards pack decorated with Royal Stewart tartan on the back. Something to keep you busy on those long trips.
Scotland/Finland flag badge
Crossed Flag Pin with the Scotland flag on the left and the Finnish flag on the right is a great Scotland souvenir to collect in this Christmas season. Small badges often speak louder than big words.
Rampant Lion China Mug - Scottish Weave
This mug features an intricate design showing the lion rampant along with ornate Celtic patterns in rich shades of yellow, red, blue, and green. This Scottish mug holds 380 milliliters, a generous capacity for hot beverages. The unique heart-shaped handle makes this mug an eye-catcher.
Celtic cross china mug Celtic weave
A bold and traditional Celtic weaving pattern is done in primary colors. It is beautifully decorated with a high Celtic cross. in the style of ancient 9th century Celtic manuscripts that would have been painted by monks. This traditional design is a nice addition to any collection.
Scotland/Latvia flag badge
Crossed Flag Pin with the Scotland flag on the left and the Latvian flag on the right is a great Scotland souvenir to collect this Christmas season. Small badges often speak louder than big words.
Scotland saltire socks blue
Socks don't get any fancier! A breathable riding sock with a soft grip and flat toe for comfort. Pair them with the Scotland Saltire Socks for top accolades.
Scotland landmark cruet set
Glazed ceramic cruet with images of famous Scotland landmarks on the front and back is a perfect gift for your loved ones during the Christmas season.
Scotland saltire coffee mug with spoon
Show your confidence with every sip of coffee you take from this beautiful Scotland Saltire coffee mug and spoon! An amazing Scottish collectible to add to your Highland collection. This ideal piece of art with its stunning color combination will melt your heart! So why wait? Grab this precious keepsake gift for your friends and family right away!
Scottish Flag Shot Glass
Scottish shot glass with crossed flag. A perfect addition to your collection or as a gift for any Scotsman!
Scotland landmarks shot glass
A Shot has been the common name for an alcoholic beverage in the United States since the 1920s and Shot Glass was introduced in the 1940s after the end of Prohibition, which prohibited the manufacture, import, and sale of alcohol. states from 1920 to 1933. This glass was originally designed to hold a serving of spirits to be drunk straight out of the glass (one-shot) or poured into a cocktail.
Scottish horse hair sporran
This beautiful and traditional piper sporran is made from real horsehair with a stunning raised thistle cantle and two contrasting tassels from Scotland. Horsehair sporrans are the largest and most formal type of sporrans, generally worn by bagpipers and drummers in bagpipe bands.
Scotland rampant lion baseball cap
The word Scotland was elegantly embroidered with a wild lion insert. Historically, the lion was considered the king of the beasts and was chosen as the symbol of Scotland to symbolize his courage and strength. It is an emblem of courage that is often used to denote a brave warrior. It appears in the Royal Standard of Scotland and was used historically by the King of Scotland.
Nessie whisky glass
These decorative handmade glasses are truly wonderful and celebrate one of the world's most coveted creatures in a timeless way. This is the original Loch Ness Monster in a glass, a fun gift, or an authentic keepsake to remember an unforgettable trip to Scotland.