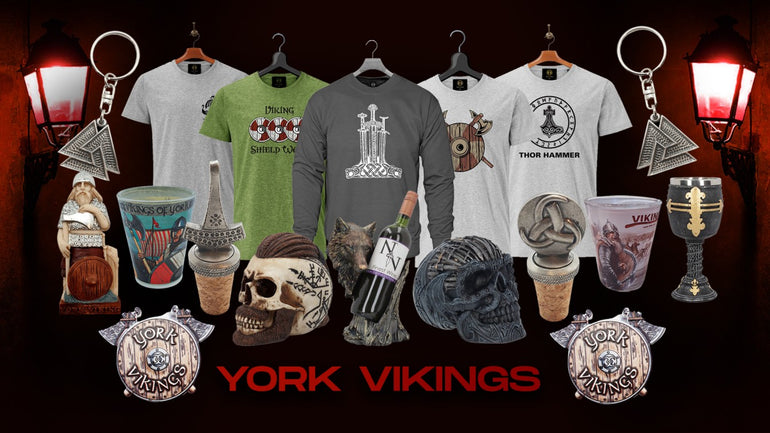 Finding Christmas gifts for the York Vikings is easy. Looking for true Viking mythology gifts? That is a bit more demanding. Fortunately, we looted and looted a list of Christmas presents that would make any Viking smile, and if we had killed a Thor plush, can you blame us? (They're ready to buy, but they'd make a great base for DIY projects too.) Here a list of York Viking gifts you must collect.
York Viking Gifts List You Must Collect
Resin magnet Viking shield
Grip Viking Resin Shield with Viking Shield and Cross Ax with Celtic Touch Pattern on Magnet.
Magnetic resin figure York Viking
Magnetic resin York Viking figure with a figure model of a Viking warrior holding an ax with a shield. This beautifully painted fridge magnet is a perfect keepsake to take with you.
York Viking in Runes Printed T-Shirt - Gray
What more can you do to show your Viking roots or your love of Scandinavian culture, Norse myth, and Norse mythology than to own this York Vikings Runic Viking T-Shirt? Viking runes, or Anglo-Saxon runes, were used as alphabets in their writing system during the Viking era.
York Viking T-Shirt with Thor's Hammer Embroidery
York Viking T-Shirt is a great gift for anyone with Viking roots and loves Scandinavian Culture, Norse Myth, Ragnarok, Viking Helmet, Ragnar, Loki, God Odin, Valhalla, Epic Norse Distressed Look. The famous Viking ax and shield are embroidered on the chest. Classic t-shirt with the standard of quality of fabric and production, durability and comfort, available exclusively at British Souvenirs.
Viking sword sweatshirt
Buy this official light gray Viking sweatshirt which is a great addition to your wardrobe if you love Scandinavian culture. Now exclusively available from British Souvenirs.
Always be a Viking sweater
Here's an awesome sweatshirt to flaunt your Viking roots or your love for Scandinavian culture, Norse myth, Ragnarok, Viking helmet, Ragnar, Loki, God Odin, Valhalla, Epic Norse Distressed Look.
Viking Warrior Pewter Keychain
Viking Warrior Key-chain: Solid and heavy pewter in jeweller quality, hand cast and imported from Norway. This is a nice keepsake or gift for the SCA or Viking enthusiast. This is a detailed two-dimensional Viking warrior with a detailed sword, shield, Viking helmet, and tunic. This is a nice keepsake or gift for the SCA or Viking enthusiast. The term Viking (from Old Norse via? King) is commonly used to refer to Norse (Scandinavian) explorers, warriors, merchants, and pirates who lived from the late 8th to 11th century.
York Vikings metal key chain
A beautiful metal key chain with an engraved ax in the hand of a Viking warrior and a Viking ship with the words "Vikings of York" at the bottom, making it a perfect gift for loved ones. To remember the great ancient history of the Vikings, add this beautifully designed metal key chain to your collection.
York Viking Snowball
York Viking resin snow globe. A Viking soldier inside with etched historic landscapes of York in the surrounding borders. Beautifully painted with wonderful workmanship.
Viking bottle cap tree of life
Never spill a drop of wine again with this unique bottle stopper featuring a pewter Viking ship. The Viking ship at the top of the plug is made of 100% tin. This is a high-quality Viking keepsake to go. It also makes a great long-lasting gift idea!
York Viking shot glass
Spice up the party with these amazing York Viking Soldier liquor glasses! This is the official York Vikings Shots Glass York Viking ship. Its design is too nice to handle this glass. And the York Viking shot glass engraved on it. Very well done with the image of Viking warriors in action and the ship around the glass. So go ahead, grab it, fill it up, and do it until dawn!
Chalice Walhalla 17cm
Toast victory at sea with this incredible Viking mug available as part of Nemesis Now's selection of premium fantasy premium gifts. The stem of this chalice rises on a base surrounded by Norse runes and is black and covered in.
Medieval Tankard
Enjoy a drink with your friends with the medieval shield mug. The unique jug is made of cold cast resin and hand-painted with excellent details. This attractive jug features an intricate and colorful shield design.
Ragnar Skull
Named after a legendary Viking commander, this skull is fully engraved into the side of his skull with a Vegvisir rune or compass. His brown beard matches the braided dreadlocks that adorn his head. Cast in the finest resin and carefully hand-painted, this skull is the perfect companion on every journey.
York Viking Rune X or Z - Algiz Rune
Proudly display the legacy of his ancestors with this amazing Algiz rune pendant. The rune Algiz represents the letters X or Z. This pendant comes from the Algiz or Elhaz rune. The rune Elhaz comes from the ancient Futhark and means "moose", which means protection or shield. Handmade in Scotland, this pewter pendant comes on a black waxed cord. This hand-cast pewter amulet makes a great gift for any mythology lover!