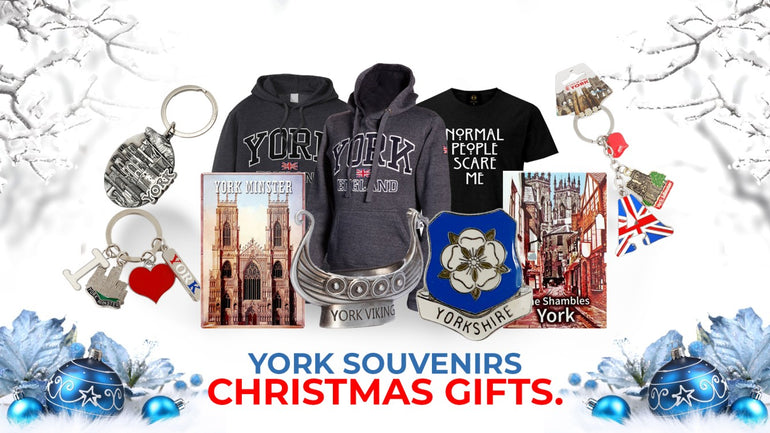 Word spread quickly, but it's this time of year and the countdown to Christmas 2021 is on. In recent months we have expanded our range of York souvenirs, so this year we will have a wider selection of Christmas gifts. These contain all of your favourite products.
We have some old favourites on this list, but also some new limited editions. We will constantly update the list for the next several months when the souvenirs hit the store. Check back often or follow us on our Facebook page for the latest information.
York Souvenirs Christmas Gifts.
York landmarks key chain
This beautiful York key chain features famous landmarks and historic tourist attractions such as York Minster, Clifford Tower, Monk Bar, Walmgate Bar, and The York engraved on the key chain. This very attractive and authentic-looking key chain will enrich your collection. Key chains are the most popular promotional items and the most common of all souvenirs.
I love York Minster key ring
This beautiful I love York Minster keepsake key chain features a beautifully engraved York Minster pendant. The bright red heart and alphabet beautifully complement the charm. This amazing collectable is lightweight and easy to transport and would make a perfect jewel for your keys, purses, and wallets.
York Minster Alphabet Key chain
Make your memories more personal by getting an alphabet key chain with your initials. The York Minster Alphabet Key chain with its vibrant Union Jack alphabet, beautiful red heart, and beautifully illustrated York Minster is the perfect choice for a personalised keepsake. You can also give it to a loved one.
Yorkshire Rose Tin Magnet
Pewter magnet with a Yorkshire rose designed with a Yorkshire rose on the magnet. Show your love for York with this tin magnet featuring Yorkshire roses. This magnet features a white Yorkshire rose and includes the word York at the bottom, used as a symbol of Yorkshire.
The Shambles York Tin Magnet
The Shambles York tin magnet is decorated with an oil painting in the style of the famous street in the historic city of York, one of the best-preserved medieval streets in Britain, with the word The Shambles York at the bottom.
York Minster tin magnet
Beautifully designed York Minster tin magnet featuring the image of the historic York Minster, one of the largest Gothic cathedrals in Northern Europe, and a front view printed on the magnet with an unobstructed view of the architectural work. It makes a wonderful magnet to stick on the fridge and also a great keepsake to collect.
Yorkshire rose
The Yorkshire Rose pin badge is designed with the Yorkshire rose in the centre and the word York underneath. This lapel pin is an overall blue colour that complements the Yorkshire flower in the centre. This makes it a great item for your keepsake collection, or even a perfect York gifts for your family or friends.
Yorkshire Rose Shot Glass
Yorkshire Rose shot glass with Yorkshire Rose on one side and Yorkshire Map on the other with highlights of landmarks and attractions. This beautiful blue shot glass is a must-have for your York collectables.
York England pullover navy blue heather adult sweatshirt
Looking for a gift from the historic city? The City of York welcomes more than 7 million recreational visitors each year. This hoodie is for someone who is from York, England, and wants to show pride in her hometown, visited York as a tourist, or lived in York, England as an ex-pat. This comfy hoodie is perfect for keeping you warm and comfortable.
York England Charcoal-Black Adult Pullover Sweatshirt
The body colour is anthracite and the York England logo is embroidered in black with a Union Jack flag between the logo. There is a deep front pocket. This comfortable hoodie is perfect for introducing yourself to a unique person.
York women's Grey embroidered t-shirt
Renew your wardrobe with tops from designers and the main brands for women. Wear blouses to go out and wear casual vests and shirts.
People Scare Me Regular T-Shirt - Black
Ordinary people scare me in the best black t-shirt. A perfect gift for any true fan of American horror stories. This classic tee with demands on fabric and workmanship, durability, and comfort, available exclusively from British Souvenirs.
York teddy bear
Small York teddy bear with pink Union Jack heart shape, embroidered with the word "I love York". Soft Bear is one of the cutest and cutest bears you can hug! A real treat for any boy or girl, to cuddle, play, or simply to display in a home. The soft bear instantly becomes a best friend to hold on to. This big York teddy bear will be the best companion for your children because it is soft and cuddly. The word I love York in the heart behind her will brighten her mood at any time.
Viking ship pencil sharpener
Everyone loves a little variety from time to time. This unique Viking ship pencil sharpener is perfect for someone looking for something different. This amazing collectable is a pencil sharpener. A perfect gift for your friends or family, this ideal British souvenirs will furnish your living space and stand out in your York collection.