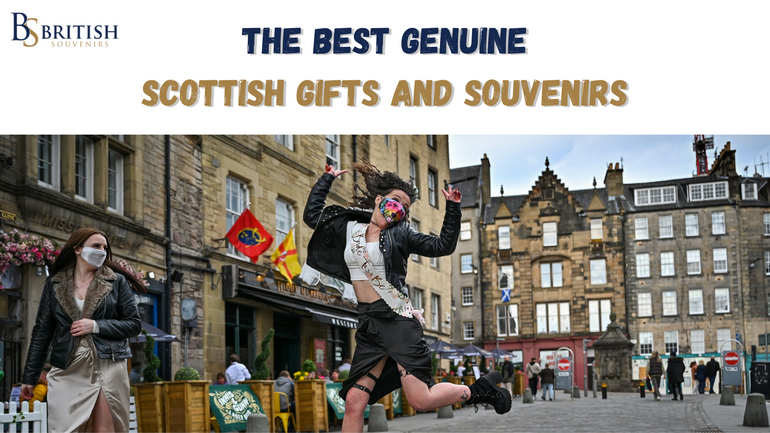 Scotland's popularity extends far beyond its geographical limits, largely due to Hollywood's interest in the Scottish theme: Sean Connery (as James Bond), "Braveheart", and so on. in much more. When in Edinburgh, you will need to buy something memorable and interesting Scottish souvenirs as a gift. Here are some ideas of what might work well for this purpose.
Local furry coo art:
When I say I wanted to take everything home, it's really because of all the furry memories I found. If you didn't know, shaggy coo is the local name for highland cows. These are real Scottish cattle that can withstand the harsh highland climate.
When I first saw a photo of these giant animals, with their long, luscious hair covering their eyes, I immediately fell in love. And it turns out that I'm not lonely. When I arrived, I was amazed at how many furry memories they had. Magnets, key chains, mugs ... you name it, they have it.
Cashmere sweaters and Scarf:
Due to its difficult harvest, cashmere is one of the most valuable textiles in the world. Unlike sheep's wool, cashmere is woven from the thin, soft undercoat of a specific breed of goat that is not native to Scotland.
These goats grow a thick, coarse coat of hair in winter and only lose their fine hair in summer, so not only do they grow slowly, but they also don't have as much to make textiles.
However, the number of herds in Scotland grows year after year and today the cashmere wool industry uses around 2,500 animals, the quality of the cashmere scarf product being known worldwide for its softness, durability and warmth. For a stylish and durable great Scottish gift, an item of clothing made from authentic Scottish cashmere wool is a great choice.
Edinburgh Crystal:
The Edinburgh Crystal is synonymous with luxury and is a fabulous gift for your family and friends who can use it as a functional or decorative item. This cut crystal was made in the mid-19th century and has become a symbol of Edinburgh. It can come in the form of glasses, carafes, bowls, baskets, or even bells. Edinburgh Crystal is now held by Waterford Wedgwood. Although there were many glass series, only four of them managed to preserve their uniqueness in the old "Connoisseur Collection", namely: Star of Edinburgh, Thistle, King James and Lochnagar. These were marked as collectables. Costs range from $ 15 to $ 400.
Quaich:
This traditional small bowl from Scotland is an ideal souvenir for various special occasions such as weddings, christenings, birthdays or anniversaries. It is also popularly used as a trophy for golf, curling, and other sporting events. Although quaichs are made primarily of wood, other popular materials include stone, brass, pewter, horn, and silver. The floors of some Quaichs are made of glass, supposedly so that the drinker can keep an eye on his companions. Many Quaichs have some special messages or a clan coat of arms engraved on them. Quaichs became popular in Edinburgh in the late 17th century. Prices range from $ 20 to $ 200 or more.
A little tweed:
Scotland is not just about clan tartans, but tweed as well. This woollen fabric originated in Scotland in the 18th century and is now an essential fall style.
In Scotland, why not buy Harris Tweed gifts to enhance your wardrobe? They sell fall clothes, accessories, and even purses and purses.
Harris tweed hats were a huge hit with my family. Both my boyfriend and my father bought one and never took it away. Everyone at home congratulated his new look (I think they were jealous!). They also add a nice Scottish flair to all your photos!
Clan Memories and Clan Badges:
The Scots are a proud nation and are as proud of their ancestors as they are of the land they live in, which is why an entire industry has sprung up around the clans.
Historically, clans were founded by Scottish warlords of the 12th and 13th centuries who imposed their rule over the local population by giving them protection in exchange for their loyalty and taxes but were not officially sanctioned until the 14th century, when Robert the Bruce granted land in exchange for going to war against the English.
Most people love to buy gifts made with their clan's tartan and you will be surprised what you can find when you start looking, but if you really want an authentic keepsake that will last for years, you can always grab a kilt.
Scotland is well-known for its high-quality gifts and souvenirs, including single malt whiskey, cashmere clothing, crystal homeware, Heathergems jewellery, clan souvenirs, Scotland Clothing, and Arran fragrances. Now when you take a trip to Scotland it is your chance to get something, either for yourself as a Scottish souvenir, something to enjoy during your visit, or as a gift for someone else that would be hard to find anywhere else in the world.