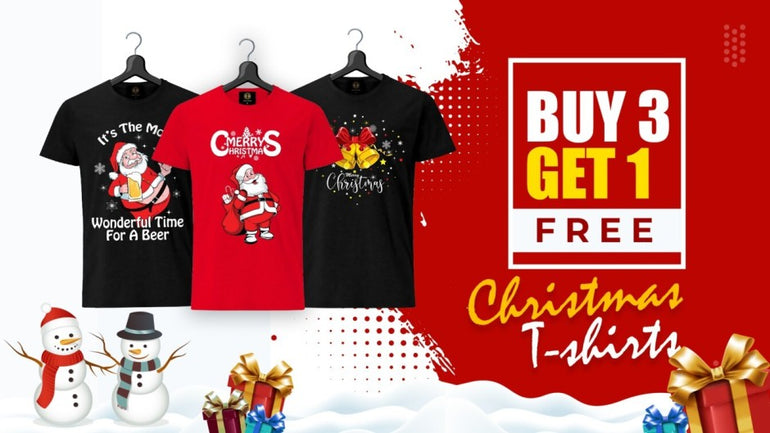 The jingling of bells and the impeccably adorable decorations at every corner of the city indicates the onset of Christmas Eve and the most awaited person in this world on Christmas Eve, the name that clicks anyone's mind is undoubtedly, Santa Claus. The preparations for the festival are already in full swing. Decorating Christmas trees with ornaments, welcoming guests, baking cakes and cookies, singing carols, and exchanging gifts make Christmas the most awaited holiday of the year and fills peoples heart with excitement and joy.
The Christmas trees adorning the town centers, the twinkling fairy lights and wafts of mince pies and mulled wine filing the air. It's such a magical time of year!
 Aside from preparations and embellishments Christmas plays colossal part for outfits. Gifting the best for Christmas is an assignment. Christmas t-shirts
are high on festive feeling in a wide range.
There are so many Christmas deals happening right now. Go snag the things for Christmas! British souvenirs are here with stunning proposals to make this Christmas euphoric. Shrug off the winter chill with warm Christmas t-shirts from British Souvenirs! Get three Christmas t-shirts from British Souvenirs for this Christmas and get one  Christmas t-shirt free. Grab the deal for this Christmas. We have a wide collection of Christmas gifts. T-shirts are designed on soft and comfortable material which gives perfection in design. It has a variety of designs and amazing color with best quality materials. T-shirts looks pretty with catchy prints and wonderful colors. Pick any three t-shirts of your choice and get one t-shirt for free. Buy three get one free deal is only for Christmas t-shirts. Hurry up! Snap up the chance and place your order today. Don't miss the chance, Gift your loved ones their favorite Christmas t-shirts and get one for yourself. Have a happy shopping with British Souvenirs and Enjoy the Christmas. Merry Christmas…!