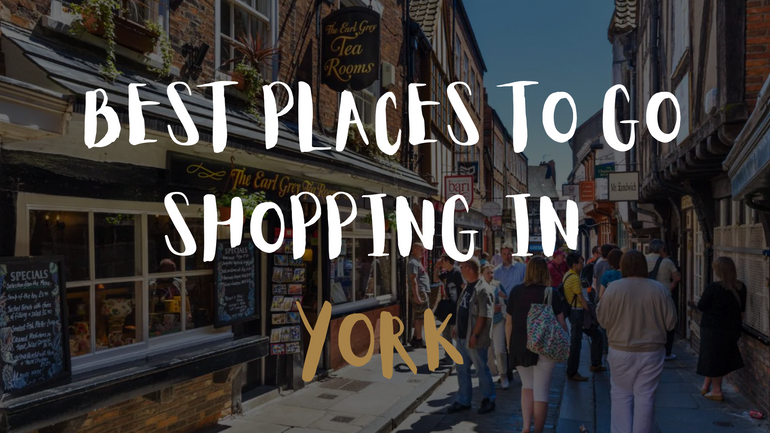 Most of the best shops in York are located in the city centre and are often small, independent shops. It makes for a unique and interesting shopping scene. Don't look for the high-end luxury of Oxford Street in London; Expect typical Yorkshire friendliness and banter with some weird and wonderful produce.
Away from the historic streets of the city centre, you will find some large shopping centres on the outskirts. They provide a great solution for your retail requirements. For your next shopping spree in the walled city, see where to shop and what to shop in York below as Viking Souvenirs.
Fossgate:
Fossgate was once the home of York's Merchant Quarter, and it has always maintained that independent spirit. Here you will find Give the Dog a Bone, two stories full of things you want the moment you see them. It is a treasure trove for unique gifts and unusual greeting cards. Fossgate is also home to many independent cafes and pubs, a great place for a drink of your choice to end your shopping spree.
Goodramgate:
Goodramgate is near York Minster and is home to one of the oldest row houses in York. Here you will find The Little Yorkshire Candle Company, York's only all-natural candle shop. It is an emporium of pleasant fragrances that contribute to your well-being and smell your home. For top-notch produce, there's Little Arras Bakery on Goodramgate, offering slow-fermenting bread, cakes, fresh pastries, and beautiful slices, as well as the Rafi Spice Box, where you get all the secret ingredients for delicious homemade curries.
Parliament Street:
Parliament Street and the streets that surround it are the main axes of the centre of the city of York. The usually pedestrianized broad street is aligned with main street stores and cafes, including Marks & Spencer, New Look, and Pret A Manger.
There are some major brands on nearby Coney Street and Shambles Market is just a short walk away. If York has markets or special events, you are sure to find them here. It is also easy to get to as there are many Piccadilly bus stops just a short walk away.
Coppergate Mall:
The Coppergate Mall is a convenient little alley and square lined with interesting shops. It's right next to Coppergate (obviously), with easy access from the many bus stops and multi-level parking on Piccadilly, as well as the parking lots around Clifford's Tower.
The pedestrian zone is mainly home to shops like Primark and Topshop and The Body Shop, as well as some specialty shops like The Whiskey Shop and Castle Fine Art. It is also home to the famous Jorvik Viking Center and the charming old St. Mary's Church.
High Petergate and Low Petergate:
The Minster Quarter is home to High and Low Petergate and some of the best shopping in town. On High, Petergate is from Clarkson and offers an excellent selection of menswear. Between the two at Minster Gates, discover Hebden Tea, which has an incredible selection of high-quality loose leaf teas. And Low Petergate is home to Azendi, an award-winning jewellery store that is sure to find something to pamper yourself or a loved one with.
Micklegate:
Across the Ouse from the rest of downtown is Micklegate, where you can find Chris Ceasar Photography. Chris's work focuses on capturing the beauty of the North of England and his gallery sells his impressive work in a variety of formats, from greeting cards to high-quality prints. Micklegate is another great place for a coffee or a drink at one of York's independent restaurants.
Stone door:
Stonegate is a narrow, historic street that leads to the entrances to York Minster near the famous Betty's Tea Rooms. Most of the day it is pedestrianized and full of interesting and unique shops and restaurants.
The street is crowded most days and is very popular with tourists. Highlights to look out for are Ye Olde Starre Inne, Betty's Tea Rooms second establishment, York Armory, Abraham Moon, Stonegate Teddy Bears, and Käthe Wohlfahrt. Be sure to travel some of the nearby lanes and streets for more quirky regional stores, particularly Low Petergate and Little Stonegate.
Vangarde shopping park:
Vangarde Shopping Park is a purchasing centre on the northeastern outskirts of York built around a variety of department stores. The main one is John Lewis & Partners, but there are also Next and Marks & Spencer, all great places. There are also some great branded food outlets to choose from.
The Vangarde shopping park is just down the street from the Monks Cross shopping park, but it is an indoor mall, unlike its open-air mall-style neighbour. They pride themselves on their high level of consumer service and make this one of the most pleasurable shopping experiences in York.
York Souvenirs from British Souvenir shop:
British Souvenirs is an expert souvenir shop with a 6-year experience of trading an attractive variety of Viking gifts, York souvenirs and other licensed themed products in the UK. The business is flourishingly operating 13 outlets at present based in London, Edinburg, York, Liverpool and Stratford upon Avon. They aim to keep customers happy and content with a wide choice of products at better prices!