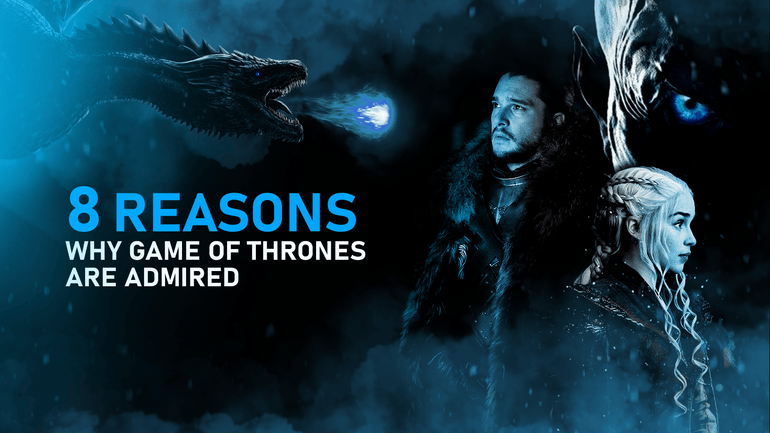 Game of Thrones is an American fantasy drama television series created by David Benioff and D. B. Weiss for HBO. It is an adaptation of A Song of Ice and Fire, a series of fantasy novels by George R. R. Martin, the first of which is A Game of Thrones. It attracted record viewership on HBO and has a broad, active, and international fan base. Critics have praised the series for its acting, complex characters, story, scope, and production values. However, its frequent use of nudity and violence (including sexual violence) has been criticised.
Here are 8 Reasons Why Game of Thrones is Admired!
1. Unique

cast and perfect characters
Game of Thrones has an ensemble cast estimated to be the most prominent in television. In 2014, several actors' contracts were renegotiated to include a seventh-season option. Five of the prominent cast members made $1 million per episode, among the highest-paid television performers by the final season.
2. Amazing cultural influence
Although some critics initially dismissed Game of Thrones, its success has been credited with increasing the fantasy genre's popularity. The series' popularity increased sales of the A Song of Ice and Fire novels (republished in tie-in editions), which remained at the top of bestseller lists for months.
3. Archetypes are presented, destroyed, and rebuilt
The conniving queen, a ruthless king, a brave knight, and ice zombies. The last one may not be so much, but the show sets up several classic archetypes and cleverly plays with them. "It is interesting about Game of Thrones," says Donovan.
4. The world-famous Fandom
A Song of Ice and Fire and Game of Thrones has a broad, active international fan base. In 2012 Vulture ranked the series' fans as the most devoted in popular culture than those of Lady Gaga, Justin Bieber, Harry Potter, or Star Wars. Fans include political leaders such as former US president Barack Obama, former British prime minister David Cameron, former Australian prime minister Julia Gillard, Dutch foreign minister Frans Timmermans, etc.
5. Mind blowing themes of the Series
Both television critics and historians have praised the series for what was perceived as medieval realism. George R.R. Martin made the story feel more like historical fiction than contemporary fantasy, with less emphasis on magic and sorcery and more on battles, political intrigue, and the characters, believing that magic should be used moderately in the epic fantasy genre.
6. Inspirations and derivations
Although the first season closely follows the first novel's events, significant changes were made for later seasons. According to Benioff, the TV adaptation is "about adapting the series as a whole, following the map George laid out for us and hitting the major milestones, but not necessarily each of the stops along the way". Aspects of the novels' plots and their adaptations are based upon settings, characters, and events in European history.
7. The exciting turns in writing
George R. R. Martin, the author of A Song of Ice and Fire, is a series co-executive producer and wrote one episode for the first four seasons. Game of Thrones used seven writers over its six seasons. Benioff and Weiss wrote most of each season's episodes. Martin did not write an episode for the later seasons since he wanted to focus on completing the sixth novel (The Winds of Winter). Jane Espenson co-wrote one first-season episode as a freelance writer.
8.

The storytelling is politically correct, even if the setting is not
"Game of Thrones offers the special indulgence of vicarious, guilt-free barbarism," says Freeman. Life in every corner of Westeros is completely un-politically correct – good guys are killed, bad guys gain power, women are raped and pawned about, and people with "differences" are ridiculed and marginalized. There's an undercurrent of sympathy that runs through the narrative.
"British souvenirs" proudly presents some unique products of "Game of Thrones"!!!
Game Of Thrones Goblets
Take your next sip of the vine from our game of thrones goblets. Different varieties of goblets are waiting for you with unique features. Afford these premium goblets to show your love and support for Game of Thrones. House Stark, Weir wood Tree, Sigil, Winter is Coming, Viserion White Walker, The Seven Kingdoms and Iron Throne are the various collections of Game of Thrones Goblets.
Game Of Thrones Tankards
The world's best Tankards are waiting for you with multi designs and beautiful themes. Game Of Thrones Tankards of British Souvenirs can bring you to the world of the series illusionary. The varied collection includes Iron Throne, The Seven Kingdoms, King in The North, House Stark, Sigil, Winter is Coming and House Targaryen Game of Thrones Tankards.
Game of Thrones Collectables
Welcome to the world of Game of Thrones by British souvenirs. Make the interiors of your home stunning or gift the best things to your beloved ones with us. Dragon Egg Shot Glasses, Sigil Magnet, Game of Throne Magnet, Nights Watch Magnet, and Ice Sigil Magnet; are the charming collectables of Game of Thrones.
Checkout GOT Collectables Here
Add an extra golden feather to your crown of collections with us. Please check out the website for more information.