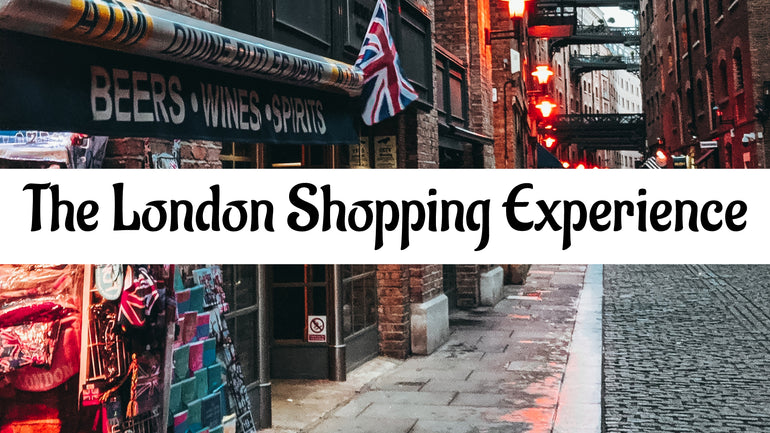 Out of town shopping malls may have marked the decline of traditional British main drag in recent years, and it's easy to see why. While London doesn't offer any of these, it isn't necessary!
London literally has it all. From market stalls to the world's largest department stores, from inexpensive jewellery to exorbitantly expensive fashions from the world's best designers, they are all served by London's diverse shopping districts.
Convenient as malls are, they don't even scratch the surface of what London can offer the shopper in terms of diversity and wherever you are in the city, everything is a short tube or bus ride away. With the chance to see some of the world's most famous landmarks as well, the London shopping experience can't be beaten.
Britain's busiest main street and London's most famous shopping district are packed with the country's most popular shops. more than 300 in fact. Many of the biggest names on the street have their flagship stores here, and the street is also home to the oldest record store in the world (HMV at number 363). Oxford Street, which is also home to the world-famous Selfridges department store, is a 1½ mile shopping utopia for those who don't mind a hectic experience.
Knightsbridge is home to stylish fashion boutiques and high-quality department stores. Well-known fashion designers can be found on Sloane Street and chic and smaller shops on Beauchamp Place.
Kensington has a bit of everything for those shopping in London. It has all the well-known chain stores, many unique shops, department stores (the main one is Barker's), a variety of antique shops (on nearby Kensington Church Street) and numerous restaurants. It's less crowded than the West End and certainly has a more elegant touch.
Regent Street, which runs the mile between Oxford Circus and Piccadilly Circus, offers the most optically elegant shopping experience in London, as all shops are of the same ornate architectural style. It has department stores, fashion boutiques, restaurants and household names and is also home to the world's most famous toy store, Hamley's.
If you're looking for a London shopping experience with a touch of class and don't mind paying for it, Bond Street is the place for you. The street is filled with the biggest designer names including Armani, Calvin Klein, Gucci, Cartier and Tiffany & Co, and has more suppliers for royal families than anywhere else in London. In a world beyond the "everyone for yourself" experience on Oxford Street, many stores have their own porters. The world-famous auction house Sotheby's is also located in the street.
If you're shopping for electrical goods or home furnishings in London, Tottenham Court Road is well worth a visit. The area's narrow streets offer a variety of interesting pubs and speciality shops. A variety of restaurants can be found on nearby Charlotte Street.
Soho has improved its acting over the years and no longer has the shabby reputation it was once known for. If you're looking for London souvenir shop you will still be well served, but its reputation today is based so much on the many cafes, bars and restaurants that make the area a hugely popular 24-hour attraction. Someday. It's an incredibly racially and culturally diverse area that has a thriving gay community and has also become the media capital in recent years. Soho is busy and chaotic, but well worth the experience.
London's fashion mecca of the 1960s has become almost as famous for souvenir shops catering to tourists dragged onto the streets under its iconic name and is now regaining avant-garde prestige, especially in the far south. from the street. Newburgh Street (which runs through Carnaby Street) is home to several top designers, including Jean Paul Gaultier and John Richmond. Nearby Kingly Court has 3 floors of concept shops around an open courtyard offering unsold items. Nowhere else in London.
The street made a name for itself in the 1960s and 1970s for cutting-edge fashion that it may not have today, but still has plenty of independent clothing and shoe stores. There are also a number of modern furniture stores and a variety of bars and restaurants.
Peter Jones Department Store is at the end of the street from Sloane Square and across the street is the new Duke Of York shopping district. The street has always had a glamorous reputation and is not only a great shopping experience in London but also a prime place to visit celebrities.
Fulham Road runs parallel to King's Road and offers a much more relaxed shopping experience in London to buy London gifts. If you are looking for antiques or speciality interior furniture, this is the place to be.
Notting Hill has become quite a fashionable area lately, but long before the movie, and even before the annual Carnival, since the 18th century, the Portobello Road market has drawn large numbers of visitors. Best known for its antiques, jewellery, and collectables, there are also shops and stalls selling everything from fruits and vegetables to trendy clothes. And if all of that shopping makes you thirsty, there is no shortage of pubs to choose from.