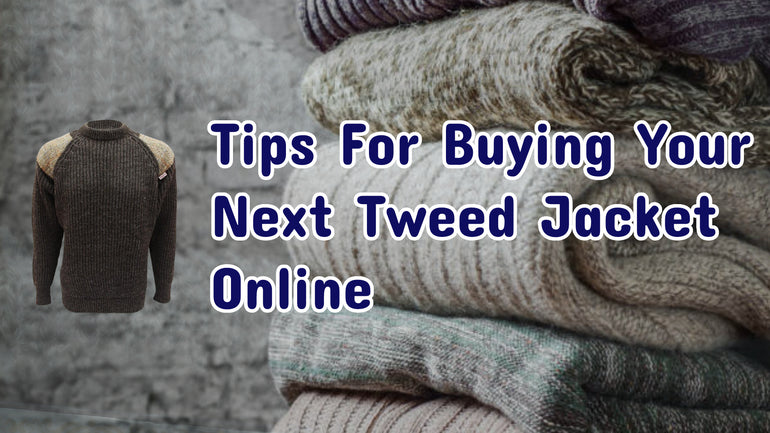 Tweed should be the perfect material for a modern person in many ways. It's practical, sturdy and can be dressed formal to definitely casual.
On the formal side, a dark blue tweed jacket, gray worsted pants, and button-down shirt are the most elegant dress that most men who don't work in professional offices need.
And for a casual look, a soft, tailored jacket made of perhaps gray herringbone pattern goes with a crew-neck sweater, jeans and boots, making for a casual outfit that still looks thoughtful.
For many men, the internet is the best invention ever created. Instead of spending hours in a department store looking for a quality tweed jacket or t-shirt, they can just sit back from the comfort of their own home and click until they find the right item. While this seems a lot easier, it can be a little uncomfortable on its own.
First, the internet is vastly bigger than any department store you've ever visited. And if you don't know what you're doing, navigation can be tricky. Before shopping online, there are a few tips to keep in mind to make your experience happy and successful or you can buy from Harris tweed shop.
Online Shopping For Tweed
Before you start shopping for Tweed online, there are a few things to consider.
Choosing the store:  There are hundreds of stores online. However, you don't want to pick the first store you come across. Do some research to find out how long they have been in business, what their reputation is like, and what previous customers think of their services. Check to see if they offer unlimited returns and what type of payments they accept.
Site Navigation - Knowing which online store to buy your Tweed from may require a little time learning to navigate the site. Most online stores try to make it easy to find the clothes you want. Many also offer high quality product images, images of the available colors, and full clothing definitions. You can even request a sample of the fabric before making a purchase decision.
Know How To Save Money - Many online sites offer you ways to save money. For example, you can get a free item for every tweed jacket you buy. Or you can find promotional offers that can save you up to 50% on your purchase.
Make sure it's tweed: Tweed fabric is the only fabric that is protected by a law of parliament. But there are plenty of copycats out there. The actual tweed fabric must be marked with the Harris Tweed symbol. Make sure the company you use identifies your fabric as royal tweed from the Isles of Scotland.
Sizes - One of the biggest barriers to buying tweed online is determining the right sizes. There are so many different online stores around the world, and each one is slightly different in size. Take the time to differentiate between the sizes for each country before choosing your clothes. If a size chart is provided, use it to determine your measurements so that you don't have to return a jacket that is too small.
Buying a tweed jacket online from our Souvenir Store that can be a fun experience, especially if you are tired of spending hours in a department store. However, make sure you know how to navigate the internet and find the right dealer for you.