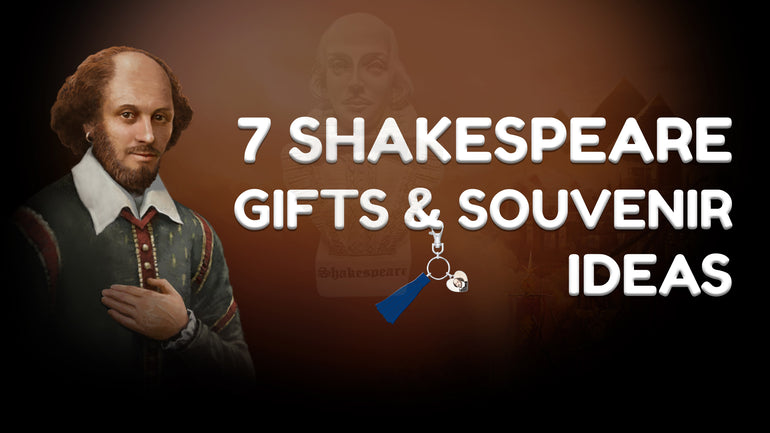 William Shakespeare, one of the greatest English playwright, poet, and actor and globally renowned as the greatest English language writer and world's greatest dramatist. His birthday is celebrated as World language day on April 23rd every year. His birthplace is located at Henley St, Stratford-upon-Avon, Warwickshire. This is one of the important tourist locations in Stratford-upon-Avon, United Kingdom. When you visit this place, you can buy some souvenirs to remember about this wonderful visit or you can gift something to someone who loves Shakespeare and his books from your family and friends. Here are some of the Shakespeare gifts and souvenir ideas.
Shakespeare Keyrings
Keyrings are one of the simplest and useful souvenirs or gifts to collect from Shakespeare's Stratford. So many beautiful keyrings with Shakespeare photos and Shakespeare home photos printed on it are available in the nearest souvenir shops and online.
Shakespeare Magnets
Magnets are always considered the best souvenir option. There are so many magnets like fridge magnets, Tin plate magnets, Wood magnets, Round magnet etc. are available on the market. Wide range of magnets in different types and shapes which printed Shakespeare face or birth home or his quotes etc.
Shakespeare T-shirts
Shakespeare T-shirts are the most stylish and attractive T-shirts. These T-shirts are exceptionally good gift items to gift someone who really loves Shakespeare. Even if you are not a Shakespeare fan, you can wear these T-shirt because they are mostly printed with some awesome quotes of Shakespeare.
Shakespeare Kitchenware's
These are a different kind of Shakespeare merchandises that can be used for the kitchen. The souvenirs like spoons, tea towels, plates, cruet sets etc. with Shakespeare's face are extremely cute and useful items for the kitchen.
Shakespeare Collectables
Shakespeare collectables like Shakespeare resin model, Shakespeare birth home resin figure, wrist bands, coin sets etc. are great gift and souvenir ideas.
Shakespeare Mugs
Mugs are always a wonderful idea to collect from somewhere you visit and to gift some coffee or tea lover. There is a wide range of beautiful Shakespeare mugs are available in the market. Not only mugs but also shot glasses and coasters are also available in souvenir shops.
Shakespeare Stationaries
If you are a Shakespeare enthusiast, you will need stationery items like pens, pencils, notebooks, bookmarks etc.
These are some of the souvenirs that you can purchase for the remembrance of Shakespeare from our Souvenir Shop. For more Scotland related gifts and collectables check out our latest collections.