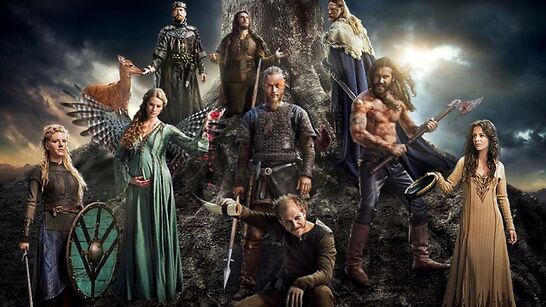 RAGNAR
Ragnar Lodbrok restless warrior and family guy and former King of Kattegat. He longs to discover and explore new countries across the sea. The Viking king and warrior renowned for his adventures, by Aella of Northumbria for his death in a snake pit. His goal is to settle his own people on rich new farmlands in order to prosper. Now that he is King, not least because he appears to be an ancestor of the Norse god Odin, the god of slain warriors, but also the god of everlasting curiosity, his desire to raid new kingdoms remains unquenchable. was the main protagonist of Vikings until his death in Part 2 of Season 4. He claimed to be a descendant of Odin, the Norse god, but also the god of everlasting curiosity, the god of slain warriors. He was the father of Gyda and Bjorn with Lagertha, his first and former wife, and the father of Ubbe, Hvitserk, Sigurd, and Ivar with Aslaug, his second wife. He was Rollo's younger brother.
LAGERTHA 
Lagertha is the first wife of Ragnar Lothbrok and the former Qeen of Kettagat .She is an Earl, a strong shield-maiden and a force to be reckoned with. The Shield-maiden was a woman who had chosen to serve in Scandinavian folklore and mythology as a warrior alongside men. Ragnar went to Lagertha's home at an unspecified time to profess his love for her, but he was set upon by a bear and a massive hound who guarded her home.Although fate has pulled her apart from Ragnar, it seems that the gods must have a plan to bring them back together, where they belong. Lagertha's son, Björn, had just turned twelve in Scandinavia in the 8th century when her husband, Ragnar, took him to Kattegat to swear loyalty to their reigning Earl Haraldson and receive his arm ring.
Bjorn Ironside
The King of the Kattegat is Björn, or Bjorn Ironside. He is the son of Ragnar and Lagertha, and he is the eldest of the many sons of Ragnar. While it is later discovered that his uncle Rollo may be his biological father, Björn assumes that he is the son of Ragnar. Smart and determined, Bjorn loves his father and admires him above all men. Following in the footsteps of Ragnar, Bjorn wishes to test himself as both a warrior and an explorer. He obtained the famous nickname "Bjorn Ironside" after fighting in combat without having a single wound or scratch. King Olaf and his younger half-brother Hvitserk Bjorn, with the aid of King Harald Finehair, overthrow his wicked younger half-brother Ivar at the end of season 5 and become King of Kattegat.
Ivar
The youngest son of Ragnar Lothbrok and Aslaug, and the King of Kattegat after his birth, is Ivar Ragnarsson, called Ivar the Boneless by his father because of his illness. He swears vengeance on Lagertha for killing his mother, and for the death of Ragnar against Kings Aelle and Ecbert. Ivar becomes King of Kattegat after defeating Lagetha and taking the throne, and ultimately becomes a tyrant. Ivar is forced into exile after being defeated by the armies of his half-brothers, Hvitserk and Bjorn, along with his former allies, King Harald and King Olaf.
Rollo

Rollo of Normandy, also known as Rollo Sigurdsson and Rolf, is Ragnar Lothbrok's older brother and the Duke of Normandy. Rollo of Normandy, also known as Rollo Sigurdsson and Rolf, is Ragnar Lothbrok's older brother and the Duke of Normandy. first introduced to Rollo in the Rites of Passage episode as he joins his younger brother Ragnar on their first raid to England, which was undertaken against the orders of Earl Haraldson. In this episode, Rollo makes no secret that Lagertha, the wife of his brother, is attracted to him and is always saddened that she chooses Ragnar over him.
For more Vikings related gifts and collectables check out our Latest collections🥰