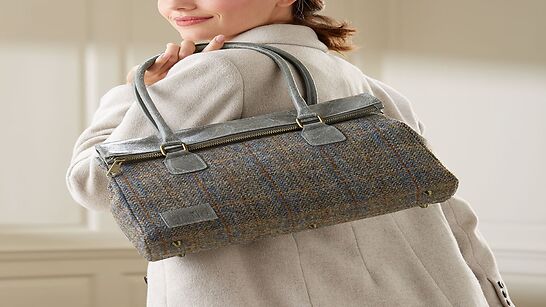 What is Harris Tweed 
Harris Tweed is a tweed cloth that is handwoven by islanders at their homes in the Outer Hebrides of Scotland, finished in the Outer Hebrides, and made from pure virgin wool dyed and spun in the Outer Hebrides. The islanders of Lewis, Harris, Uist and Barra have produced this cloth entirely by hand and have long been known for the excellence of their weaving. Up until the mid-nineteenth century Harris Tweed was used only on their crofts or sold at local markets. However, since then, Harris Tweed has become a wardrobe staple globally and is worn by everyone from royalty to Hollywood icons. Today, Harris Tweed has become a luxury fabric. So as a fan of the Harris Tweed products here I have recommended the top Harris Tweed gifts😍

HARRIS TWEED LARGE BOWLING BAG
The Harris Tweed bowling bag is perfect for gents and ladies everyday wear, featuring a handle and a separable strap for convenience. The trendy and functional case is handmade in Scotland's Outer Hebrides. Different colours are available in this bag to fit any element. This stylish but practical bag will finish off any look. This fully lined, large bowling bag with internal zips and pockets is perfect for organizing your essentials.
HARRIS TWEED MESSENGER BAG
This classic messenger bag has three inner compartments on the external and two outer pockets on the front.
With both zip and open pockets inside this Harris Tweed, Canvas Messenger bag is the perfect versatile bag for both men and women
Super versatile, this quintessentially British day bag is sure to be your favourite accessory for all your daytime engagements.
HARRIS TWEED MEDIUM CROSSBODY BAG
Stylish and functional, our Harris Tweed Cross Body Bag is simple to wear. This elegant realistic pack, made and finished by hand in the Outer Hebrides of Scotland, will complete every style.
Available in a range of colours to suit any look. This Tweed is made from 100% Natural British Wool which is dyed and spun. Renowned for their quality and heritage, they are all handmade and authentically produced using traditional methods.
HARRIS TWEED MINI BACKPACK 
This Nicely designed mini backpack is really attractive and an awesome addition to your collection. This Harris Tweed mini bag is available in various colours. It also has adjustable long shoulder straps, a sturdy zipper to close the main, and a zip pocket inside and front of the back. This Harris Tweed mini is a perfect choice for daily use.
HARRIS TWEED MAKE-UP BAG 
This Harris Tweed Makeup bag is crafted and finished by hand in the Outer Hebrides of Scotland. This stylish but practical makeup bag will finish off any look. This bag is also available in a range of colours to suit any look. 
HARRIS TWEED TRAVEL WALLET
This minimalist Harris Tweed slim wallet is ideal for travelling light A genuine Harris Tweed fronted bi-fold wallet for all your travel purpose. Keep your Credit Card/ Debit Card, ATM card, Currency note and other valuable things safely. This slim zip-locked wallet features nine card slots and a separate compartment for passports as well.
So, if you are thinking of buying Harris Tweed for yourself or a loved one, this gift guide has given you plenty of products to select from. What item did you love the most? For more Harris Tweed products and other gifts and souvenirs check out our collections.