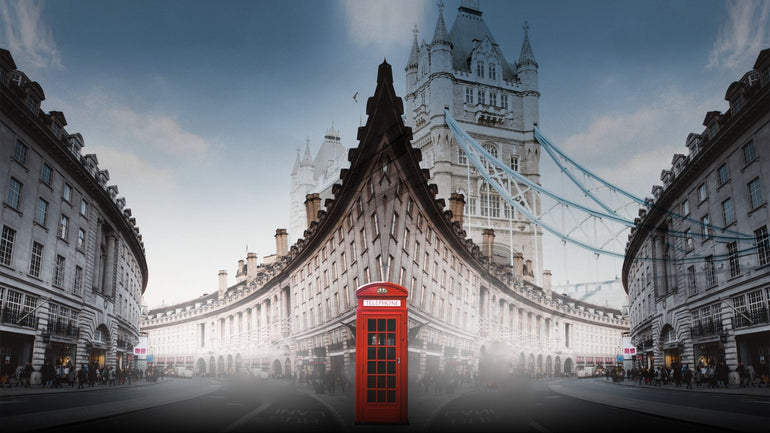 Shopping in London can be an overwhelming experience at best. But taking the perfect UK souvenir to remember your trip can turn into a nightmare that you hope will be done in 20 minutes but that in the end will give away at the whole trip. To help you, we've developed this guide to buying UK souvenirs so you can find what you're looking for without taking more time than you want. And look: it depends on what you are looking for.
Of course yes. Some people are pressed for time, some buy London gifts for young children, some for older relatives, some for colleagues who don't like them very much anyway. So we've created options for those who want to spend a little more money, for those who want to spend a little more time, and for those who don't want to spend any of those things. Well. Transport bag made of 100% recycled fabric on the arm. Wallets and wallets at your fingertips. The faces of everyone you have to buy sprout in your head. Let's find some souvenirs from London. this guide has shops for:
Budget purchases
Whimsical gifts
Luxury gifts
Memories of museums and exhibitions
The cheap and happy
These are the classic London souvenir shop. You can find them on Oxford Street and Tottenham Court Road and spread to the streets around Trafalgar Square and Leicester Square. Find them by looking for the UK flag ... there is one!
Big Ben badges and teddy bears dressed up as bumblebees. Cups with flags, masks of the queen's face. Enough fridge magnets to cover all fridge doors in Europe. Models of London landmarks, London street scene puzzles; Hats and cards and watch out for the gaps. Once you've been to one, you've been to all. It is not about denigrating what they do or sell: they know what they do and they sell what they sell. While exploring central London, you can easily access one and get a bag full of souvenirs for yourself, your parents, your sister, your brother, your boss.
Hip artisans
These places place more value on individual designs and follow the "less is more" approach. The prices are higher, but so is the attention to detail and, above all, the quality and durability of the souvenirs sold. To Home from London sells handmade souvenirs based on original designs and produces all of them in their London studio. His sets of lovingly drawn roller coasters of famous British musicians and landmarks are particularly popular with souvenir shoppers.
The company was founded by a couple from Brazil and Argentina who moved to London a few years ago. They made their first designs for their friends and family at home to let them know how they were doing. So you know a thing or two about London souvenirs. You can find them at Camden Market and Spitalfields and Portobello Markets every weekend. Cath Kidston is a designer brand that has gained popularity in recent years with its iconic floral mugs Kitchens from all over the country. But the formidable homeware empire grew out of a modest business in West London. Its shops on Piccadilly, Tottenham Court Road and Covent Garden sell a variety of London-style souvenirs celebrating the city where it all began - think bags, aprons and plates, all with a touch of nostalgia in the design of them.
We Built This City is perhaps the coolest of all. Its location doesn't hurt, it feels like Soho's famous Carnaby Street. Its selected collections of London inspired souvenirs are designed to delight visitors while highlighting, hosting and helping London artists and designers. They sell memorabilia, posters and prints by more than 250 London-based artists who focus on the city's creativity, heritage and contemporary style. You may only get away with a fridge magnet, but it is designed with a lot of ingenuity and imagination by one of the most creative minds in town. It can only be a fridge magnet ... but what a fridge magnet.
The legendary department stores of central London
The main, traditional and most luxurious department stores of central London are frequented by many who have no intention of buying anything. The Selfridges storefronts, the Liberty look. these are famous London landmarks worth seeing on their own. But it can be nice to take a souvenir or two while you're there. It's important to remember that just because they sell Gucci dresses and thousand-pound earrings a few feet away doesn't mean that everything in the store will cost more than your flight.
Harrods, Selfridges and Liberty sell many affordable souvenirs, from the UK made cookies to London style tote bags and many other small handcrafted trinkets and accessories. When it comes to department stores, Fortnum and Mason is a foodie favorite, with great products from around the country, a fine selection of teas, and their famous picnic baskets among the most popular items with visitors from all over the world. world.
Amusement shopping
If you don't have a lot of time to buy, don't worry. You can shop while touring the city, with many of the city's most visited museums and galleries with fantastic London gift shop. These sell items related to their respective collections, but also a variety of items celebrating London and London Life. The British Museum has an abundance of trinkets, jewelry and fabrics that celebrate its wonderful collection of artefacts, as well as London itself. The same goes for the Tates: Tate Britain and Tate Modern. The posters here are fantastic souvenirs.
So consider taking a copy of the painting you just viewed or the exhibition you just visited. A real favorite when it comes to souvenir shopping is the London Transport Museum.
It has a large gift shop with prints of old posters celebrating London and its attractions. Look for maps of the city and its transport networks. And grab a themed trinket on your way out (pay first, of course). Their range, which is inspired by the seating patterns of various hoses, is something special. These are the facts about shopping in the London souvenir store. If you have any tips, mishaps or missteps while shopping in London souvenir shops, please let us know in the comments below. Grab your souvenirs now and go have a drink.