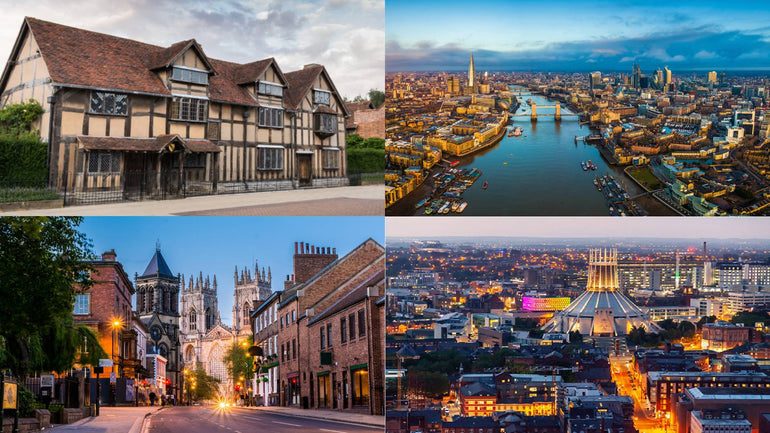 The United Kingdom is an amazing place to visit, full of history, art. culture, and stunning architecture.   
We will list some of the amazing cities you must visit when you travel to the UK.
Stratford-upon-Avon, or just Stratford, is a very pretty town in the county of Warwickshire, with more than 800 years of history. 
Currently, the town is a popular tourist destination, well knowing as the birthplace and gravesite of William Shakespeare
Stratford was originally was only a village inhabited by Anglo-Saxons and later in 1196 was developing into a town. King Richard I granted the city a charter to hold a weekly market in the town, giving it its status as a market town. As a result, Stratford experienced an increase in trade and commerce as well as urban expansion.
Liverpool is a maritime city and metropolitan borough in Merseyside, England. 
The city is noted for its culture, architecture, and transport links. It's associated with the arts.
It's also known as the hometown of the famous rock band Beatles, the most influential musical group in history and, also the great football club Liverpool F.C.
It's an amazing tourist destination as several areas of Liverpool were granted World Heritage Site status by UNESCO, and the city has a vast collection of parks and open spaces.
York was founded by the ancient Romans in 71 AD and was invaded by Vikings in 866 AD.
The city has long-standing buildings and structures, such as a York Minster (a huge 13th-century Gothic cathedral), a castle, and ancient city walls with medieval stained glass, and 2 functioning bell towers. The walls form a walkway on both sides of the River Ouse. 
The city has several historic landmarks and has a very romantic and scenic old town.
One of the most important cities in the world, England's capital has many things to do and a lot of amazing places to visit.
It exerts a considerable impact upon the arts, commerce, education, entertainment, fashion, finance, healthcare, media, professional services, research and development, tourism, and transportation. And also has a diverse range of people and cultures.
Some places to visit in London: Tower of London, Kew Garden, Westminster Abbey, Greenwich, Buckingham Palace, the London Eye, Piccadilly Circus, St Paul's Cathedral, Tower Bridge, Trafalgar Square and there are also many museums.
The best place to get some amazing souvenirs is British Souvenirs. Check the website www.britishsouvenirs.co.uk to get your souvenirs to remind you of the best moments of your trip to the UK.