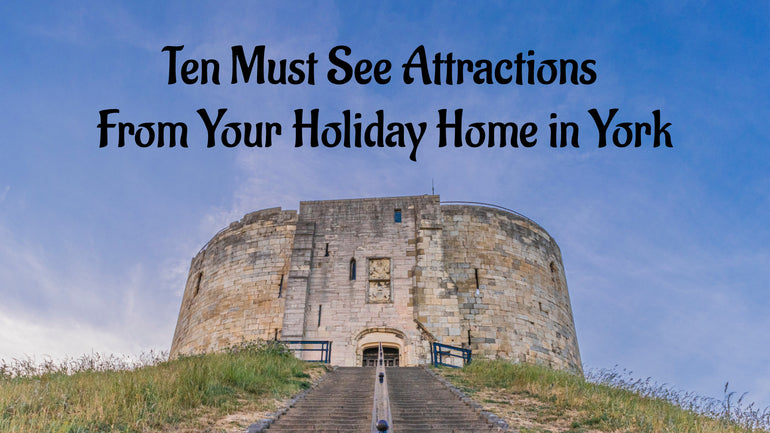 Probably the most famous landmark in York that draws visitors to York from all over the world to see this incredible cathedral. It began as a small stone church that replaced the previous wooden structure. Its origins date back to the 7th century when it was built for the baptism of the Anglo-Saxon King Edwin of Northumbria. Over the centuries it has joined two major fires and bombings.
Restoration of the cathedral is in progress, whatever it will, and the Great East Window, the world's largest example of medieval stained glass, was badly damaged in the last fire in 1984. it has now been fully restored to its former glory. and it's a great sight.
At the top of the list of must-see attractions in York is Shambles, one of the best-preserved medieval streets in the world. Located in the heart of York city center, it's a narrow cobblestone street that was where all of the butchers' shops were located in the Middle Ages.
It's a narrow street with lots on opposite sides where you can reach through an upstairs window and touch someone's hand in the house across the street. It's probably one of the busiest streets in York today and is lined with souvenir shops, restaurants, and cafes.
York city center is surrounded by Roman walls and is the most complete wall of its kind in England. The walls themselves are an ideal place to see the city as you can walk around the perimeter for most of the time, depending on the restoration that has been done. The full-length walk can take two to three hours, and the distance is a little over two miles. However, walking can take much longer as there are many extraordinary sights and attractions to see on your trip.
One of York's most attractive sights in the spring, when all of the daffodils planted around each section of the grass bank walls are in full bloom. It remains a free attraction for everyone to enjoy.
York Castle Museum has to be the best, or at least one of the best of its kind in Britain. It takes you on a journey through the history of York and is a place that you will enjoy even if you are not a history buff. It is shown in a way that will involve you and make you feel like a part of it as you travel back in time. From restoring Victorian Street to walking and entering all the authentic shops to the prison that once housed the infamous Dick Turpin.
It's easy to find a place to spend the day or days as there is something new to discover every time you visit.
This is a unique place and one of the most exciting and popular to visit. At the height of the season there will likely be a long queue. Definitely worth the wait though as once inside it is fascinating and takes you on a journey through the Viking settlement of York as it was.
In fact, it goes back a thousand years to the city of York as it was in Viking times. The archaeological discovery came when a council proposed a redevelopment in the Coppergate area of ​​York when a hidden city was discovered and over the next 5 years archaeologists had completed the excavation and restoration of the ancient Viking settlement of York.
Now you can take a trip to see the restored houses and streets and how life was lived back then. There is certainly no luxury hotel in York today, but it shows you how different and difficult times were. Your journey will take place in a moving time capsule while you sit back and enjoy the commentary and authentic smells and sounds that date from that time to give you this one of a kind experience.
The York Dungeon is a trip back in time, witnessing the worst of York's days of torture, disease, and heinous crime. It features some of its most notorious ex-citizens like Guy Fawkes and Dick Turpin. A visit here is not for young children as it is quite bloody but skillfully done with actors who create a terrible journey. It's not the same as the Castle Museum and it's more fun and surprising than the historical discovery, but it's well worth a visit.
It is located near York Minster and is one of the National Trust Houses.
Its origins date back over 2,000 years from Roman times and additions to the Edwardian era have been made over time. As you stroll through the house and its vast collection of ancient artifacts, from original furniture, paintings and ceramics. Set in a beautiful and peaceful walled garden, it is the perfect place to enjoy afternoon tea in its traditional tea rooms.
It also shows up heavily in the many ghost walks that take place around the city, a place worth visiting, especially for those serious about history.
Even if you are not a rail fanatic, most will find this place interesting and enjoyable for all ages, where you can not only see the locomotives of the time but feel and touch many and get a real sense of history. It has a large collection of over 100 locomotives from over 300 years.
However, it's not just a collection of trains, but it contains details and displays of everything to do with them, from the posters of the time to the furniture, the waiting rooms to life on the railways. A good place to visit and very easy to spend a full day there. In addition, admission is free.
The house was made famous more recently by the original Brideshead Revisited production. It's much more than a backdrop for a drama series, however. It was recently voted one of the top ten villas in the world. is a magnificent 18th century residence set in breathtaking, scenic countryside outside York in the Howardian Hills.
In addition to a tour of the house itself, the grounds have many other attractions, including the courtyard and authentic shops where you can buy fresh, organic meat to grill in your York vacation home. It also has a garden center and large lawn gardens for you to sit and have a picnic. A change from the city center and you should definitely be on your York vacation list.
The Eden Camp Modern History Thematic Museum, to give it its official title at first glance, doesn't always look attractive like some of the other attractions. However, the reality is that most visitors are pleasantly surprised by how good it is and is a must see for all ages.
The place was originally a prisoner of war camp and all buildings have been preserved in their original state. However, it is not recommended to stay in York on vacation, but rather to stay in the vacation rental more traditionally in York.
It has exhibits from all walks of history, not just the military items it houses, but also provides a real glimpse of how you would have lived in those times. The place is an excellent way to teach in a fun and enjoyable way, and it's a place to spend all day with with kids' play areas and an on-site cafeteria. It's a grossly underrated attraction in York Vikings, but one of the best indeed. Getting there is a short drive as it is on the outskirts of York, past Castle Howard.
There are a growing number of places to choose from to rent a York vacation home that can match the quality of luxury York hotels with the added benefit of value for money, especially for 2 families together, as up to 8 people can enjoy a holiday home with significant savings when comparing the costs with a hotel .
Whichever you choose, one thing is for sure, York is a wonderful place to visit, and it's no wonder many first-time visitors keep returning to explore the many delights of this wonderful city and the surrounding countryside over and over again also you can buy best souvenirs from British Souvenirs.