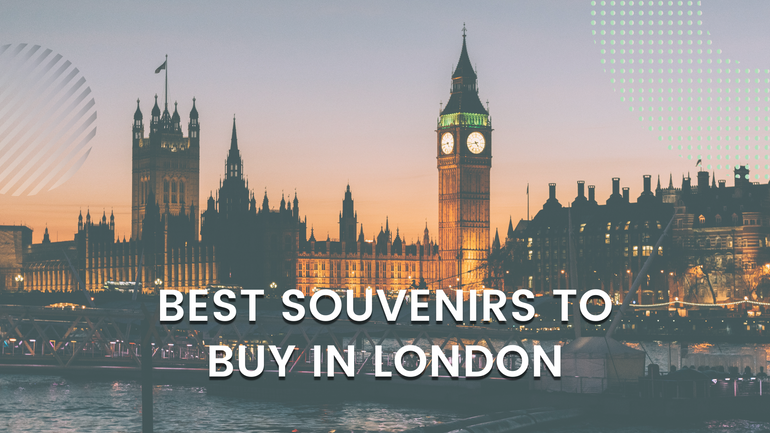 When you're planning your holiday to London, you'll want to make sure that you come back with amazing experiences or souvenirs that you can only get in London – unless, what's the point in going? Apart from the London attractions, like The London Eye, Buckingham Palace, The Shard, St Paul's Cathedral and the Tower of London, there are some other areas we suggest visiting if you need a souvenir that is truly unique to the city of London. Read on for the best things you can only buy in London.
Sherlock Holmes Pub Sign:
One of London's main attractions is the old inns and pubs that serve cheap pub food and alcoholic and non-alcoholic drinks throughout the day. This Sherlock Holmes pub sign is one of a series of London prints and makes the ideal gift to thrill any British pub fan. The colourful print measures 12 inches by 8 inches and is finished with a high-quality giclée for added texture and durability. It is ready to frame or just hang on a wall as is. The high-resolution image was taken from the sign hanging above the door of the Sherlock Holmes pub on Northumberland Street in London in the 1960s. It has since been replaced by a more modern sign, but the original image lives on in this charming print. . It shows the well-known detective, Sherlock Holmes, wearing his trademark deer hunter hat and smoking his pipe as he examines a clue through a magnifying glass. This poster makes a great gift for Sherlock Holmes fans or royal beer fans as it captures the essence of London history.
Fortnum & Mason Tea:
Some places around the world sell Fortnum & Mason tea, but nothing compares to visiting their store in London. Located in Piccadilly, a stone's throw from Piccadilly Circus, the store has a wonderful clock that chimes every 15 minutes and again every hour with an intricate display; the interior is just as impressive. Having afternoon tea at Fortnum & Mason is one of the "must-do" things in town, but if you don't have the time, pick up a selection of their teas at the department stores to take home.
A Houses of Commons Notebook:
The Houses of Parliament store sells a lot of things bearing the UK government seal, and although they do have an online store, we think it adds a certain element of authenticity if you visit the store, where you can buy branded packages of cards and even a flask! The store is opposite Big Ben, around the corner from Westminster tube station.
London Umbrella:
Unfortunately, London gets more rain than its fair share, so this umbrella may be in good use before it has a chance to be gifted. Sporting the elegant "I love London" logo with a bold red heart and white lettering, it is made from black nylon. This quality umbrella has a chrome telescopic handle, making it ideal for folding and storing in a pocket when not in use. It comes with a matching sleeve and has a drawstring carry handle. The compact size umbrella has a lightweight frame and folds, folds neatly and is secured with wraparound velcro closure. Weighing only 1.3 pounds and suitable for men or women, this London umbrella is a perfect accessory for tourists and makes a great souvenir of your trip.
A Hat From Lock & Co:
Established in 1786, Lock & Co is the oldest hat store in the world. A hat here is so much more than a head warmer - it's a piece of history! Lord Nelson ordered his signature hat from here, Oscar Wilde bought a felt hat, Winston Churchill wore a Lock hat on his wedding day, and Charlie Chaplin himself bought hats from here. Lock & Co also claimed to have created the first "coke" or bowler hat in 1849.
Liberty London Fabric:
Liberty Department Store is a London institution. Originally opened in 1875, it is famous for its fashion, interiors and luxury items and, above all, for the range of its fabrics and textiles. Liberty has a range of classic designs as well as new ranges each season and is known around the world for its fashionable patterns and excellent quality standard.
Gifts From British Souvenirs:
British Souvenirs is a seasoned souvenir store with a 6-year experience of selling an attractive variety of tourist gifts, souvenirs and other licensed themed products in the UK. The company is flourishingly running 13 outlets now based in London, Edinburg, York, Liverpool and Stratford upon Avon.
They have a wide range of London Magnets collection. Fridge magnets are among the most popular gifts, from the traditional London magnet designs such as the red Double Decker bus and Big Ben to novelty magnetic notepads and bottle openers, they have a fantastic range to choose from. Also, they have a variety of Fandom collections and football clubs souvenirs. They propose to keep you happy and comfortable with a wide choice of products at better prices! 
If travelling to London isn't an option for you right now, or you just can't afford the extra space in your luggage, thankfully, these days, you can find a wide selection of authentic and truly interesting British souvenirs online. Make your trip a wonderful experience and remember it forever with this incredible collection of souvenirs.