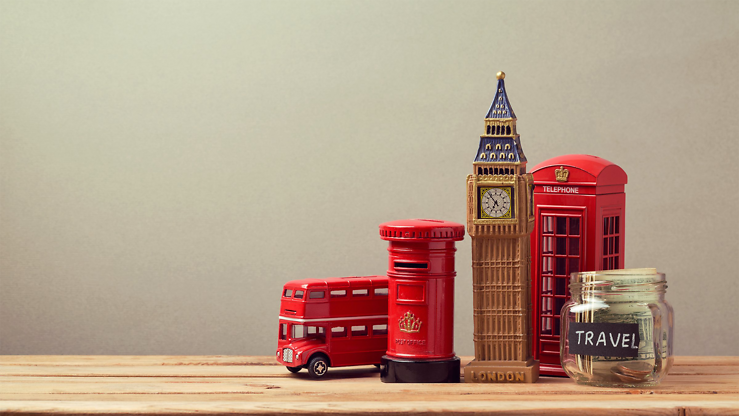 Whether you are in London or planning to visit London, sightseeing alone won't fulfill your trip you must also experience the shopping side too that includes various gifts, souvenirs, clothing, etc. This blog will be a very helpful one for first-time visitors to buy their favorite things. Let me suggest to you some ideas for buying the best souvenirs and gifts from London. I have included some of my favorites too which i won't miss buying when I visit. I am pretty sure that you will also love them too.
Have a look at the list of Souvenirs, t-Shirts, mugs, badges, etc that you can purchase.
1.London Soft Toys
Are your kids crazy about toys? If yes then these London soft toys will blow away their mind. The collection includes Policeman bear plush toy, Guardsman bears plush toy, Bud union jack bulldog plush toy, and much more waiting for your kids.
2.Telephone Booth
This classy and mind blowing Crystal telephone booth will be a perfect choice to add to your British Souvenirs collection. This unique piece of souvenir will give you a classic touch to your house or office. Grab one of these and add glamour to your house.
3.London Keyrings
Keyrings are the most popular souvenirs among other products. There will be a variety of keyrings from which you can choose your unique one. These include bottle opener keyrings, spinner keyrings, hip flask keyrings, etc.
4.Photo Frame
Imagine a photo of your cute little daughter laughing innocently placed inside a Historical Scotland Photo Frame. That will be the best gift which you can give to your family. Many more Photo frames are available too but that Scotland photo frame is one of my favorites.
5.Handbags and Wallets
Don't forget to upgrade your wallet and handbags to your accessories. If you didn't buy one that will be a great miss for you. Harris Tweed Handbag collection is unique and will be an ideal pick.

6.Gift Set
Are you an enthusiast in collecting die-cast model gift sets? Have a look at the gift sets which will be worth your money. The gift sets consist of coin sets, gift sets, mug sets, etc.
7.Tea Towel
This will be a useful souvenir for you and your family. This can also be used in the kitchen as a hand towel as well. There are various types of Tea Towel available in the London Souvenir shop. Scotland, Liverpool, Shakespeare Tea towel are some of them.
8.Baseball Cap
Caps will be a perfect accessory for any occasion. Many unique high-quality caps are available in the market. Liverpool baseball cap, Manchester baseball cap, Scotland baseball cap, etc are some of these.
9.London Bottle Opener Magnet
Among other bottle openers, the London Bottle Opener Magnet is the best one. This souvenir will be useful in two ways. One as a magnet and the other as a bottle opener.
10.Traditional Badges
Have a look at this traditional piece of badges that can flaunt your outfits. Several badges available are Scotland badges, Celtic badges, Edinberg badges, etc. Choose your favorite one from them.

11.T-Shirts And Hoodies
Explore the T-shirt and Hoodies collection while you are going to purchase items of clothing. A variety of collections including London Souvenirs, York Souvenirs, Liverpool Souvenirs are the main attractions. But Viking clothing, Beatles, Game of thrones items of clothing also find a place in between.
12.Leather Union Jack Hip Flask
Leather Hip Flask from Union jack will be very helpful for you because of its curve shape and leather material that makes it very comfortable to handle. I have been using this for a while and I don't feel that am carrying it because of its quality.
13.Edinburgh Castle Figure
This will be a perfect memento for you if you had visited Scotland ever. This figure is a representation of a historic castle in the ancient kingdom of Scotland. Don't hesitate to purchase this Edinburgh Castle Figure from Scotland.
14.Viking Goblets
If you are a Viking fan this will be a perfect Souvenir for you. Enjoy your favorite beverage with your friends with these Viking goblets. This goblet measures approximately measures 6.75 inches tall.
15.Beatles T-Shirts
Are you a big fan of the Beatles? Then you must purchase these unique and high-quality T-shirts available in London. There is a wide range of Beatles T-Shirt collections including Beatles Unisex T-shirts, Beatles Ladies T-shirts, Beatles premium T-shirts, etc.

16.Cashmere Scarf
The winter accessories season means there is no better time to indulge in a little luxury and invest in a cashmere scarf. Wrap up yourself from the cold winter season by purchasing a high-quality Cashmere scarf.
17.Harris Tweed Sweater
A wonderfully warm and soft sweater by Harris Tweed will be a perfect outfit for you to wear in the winter season.

18.Manchester Baseball Cap
If you are a true Manchester fan you must purchase this baseball cap and must show your love towards Manchester. There are also many collectables you can find like Manchester Tankard, Box mugs, Scarfs, etc.
So these are some of the very small lists of gifts and Souvenirs that you can get from shops in London. Don't miss out on any of them if you are in London. I tried to list out every item in this blog. Have I left anything else, if so let me know in the comment section, please?