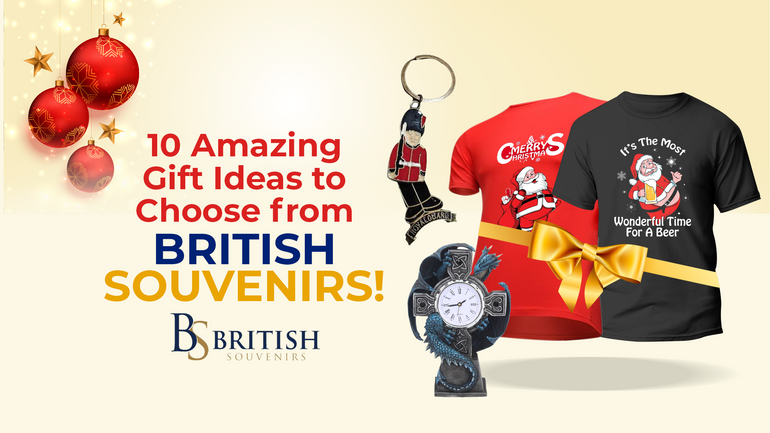 British Souvenirs is a spectacular seasoned souvenir store with a vast experience of 6 years in dealing eye-catching varieties of tourist gifts, souvenirs, and other great products. 
 Here are the 10 surprising gifts that British Souvenirs offer you:
 Christmas Black T-Shirt (Santa It's Time for A Beer)
 Are you in search for the best shirt for this Christmas? Your inquiry finishes here. You might be purchasing for your friends and family. We guarantee you that our shirts will put a sweet grin on your darling's face. 
 This lovely shirt is planned on a delicate, agreeable, 100% cotton material with a group neck and short sleeves.
Hardcover Book (Complete Works of William Shakespeare)
 You have the opportunity to order Complete Works of William Shakespeare Hardcover Book, which contains thirty-seven of the popular classics of the Bard. This book which highlights comedy, tragedy, historical plays, and complete poetry, including sonnets, is the perfect ideal gift for any Shakespearean admirer!
 This Shakespearean book has multiple typical details, which include ribbon markers, gilded edges, and decorative endpapers.
 So, why delay? Grab it as a Shakespeare gift for your friends or yourself as early as possible. 
Pin Badge Yorkshire Rose
 This Viking Badge is designed with the Yorkshire Rose pattern in the center and the word York at the bottom. It has an appealing blue color which complements the Yorkshire flower in the center part. Buying this item will be the most ideal decision the client can at any point make. It will be a perfect gift item for your family or friends.
Crystal Gold Pen Stand with Telephone & Big Ben
An exquisite work environment trinket masterpiece to add to the style of your homes and workplaces. Crystal Gold Pen Stand with Telephone and Big Ben is a badge of souvenir for remembrance of British days. Appealing and excellent London souvenir ideal for giving to somebody as presents for some different events. Present it to your workers or to your supervisor on their birthday celebrations or extraordinary events. 
Snowman-Christmas LED Glitter Water Spinner Lantern
 Wonderful Festive Snowman Design. At the click of the switch, this battery-energized LED Glitter Water Spinner Lantern, whirls directly into it. As the water circles inside the light, it takes with its sparkle, making an otherworldly snowmen scene all illuminated by the LEDs making a delightful shining impact inside the lamp. A Christmas Decoration to be appreciated a seemingly endless amount of many years. Ideal for lighting up your home during the Festive Season.
Shot Glass-Scottish Flag
 Give a classy look to your party with this wondrous Scottish Flag Shot Glass. With the stunning appearance and vibrant color, this Shot Glass-Scottish Flag will surely be the main attraction of your party. It is a beautiful Scottish collectible to adorn your abode, can be given as a gift to your family or friends. Grab the Shot Glass-Scottish flag soon.

Shot Glass - Piper
This beautifully crafted Shot glass is ideal for a small glass of Scotch whiskey, a perfect Scottish souvenir. It is available in bright decorative colors. It has a variety of traditional or humorous designs. You can enjoy a tiny dram of Scotch Whisky from our popular whisky Tot glass. This tot glass makes a beautiful souvenir or a present.
T-Shirt I Would Challenge You
 These stylish T-shirts are of 100% cotton material and a tri-blend fabric flecked with various attractive colors. Original art can be seen on men's, women's, and kids' tees. It can be machine washed cold with like colors, and it is dry low heated. These t-shirts are a fabulous gift for a birthday or anniversary. The t-shirt is available in several attractive colors such as black, grey, navy blue, and maroon. It is lightweight. This perfect fit t-shirt has a double-needle sleeve and bottom hem, and get it now for the best price. 
York Viking Aegishjalmur Helm of Awe T-Shirt-Black
 This stunning t-shirt has Aegishjalmur Helm of Awe, usually recognized as Helm of Terror. The Icelandic mysterious fights and the Scandinavian example as a winged serpent boat composed onto the shirt. This shirt is made in 100% cotton, making it an ideal Viking gift for all with Viking roots and the individuals who love the Scandinavian culture.
British Souvenirs is the only place to get the gorgeous Viking t-shirt with the pattern for fabric and manufacturing quality, perseverance, and wearer comfort.
Keyring-London-Silver
 Our silver keyrings make a useful and stylish souvenir for you. With a vast collection of silver keyring designs, it is assured from us that you will surely find something unique to make your birthday or anniversary unforgettable.